Today's business attire has changed over the past decade.
Many work environments where formal business wear was the norm have now transitioned to casual business wear. Many confuse business casual for men with a very relaxed casual attire, which it is not.
So what exactly is it? Let's have a look.
Men Business Casual Explained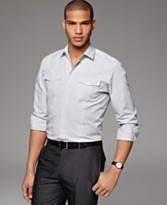 Business casual is simply one step down from formal casual so while you may not have to wear the cufflinks and neckties, you should not be planning to show up in your jeans or sportswear.
How to dress business casual? What's men business attire?
According to an American university employment counseling office, business casual dress is the middle ground between formal business wear and casual wear.
Business Casual definition:  It is a combination of collared shirts, cotton pants, optional blazer, a belt, socks, and a modest shoe such as a loafer.
Looking Your Best in Business Casual Attire – Men
Business casual attire for men should still look put together and professional.
Business casual does not translate to throwing on some clothes and heading out the door.
Direction from Your HR Department
Your HR department can offer you your company's official dress code guidelines.
The definition of business casual for men can vary from one company to another. In a smaller company, a polo shirt and a pair of khakis or Dockers might be acceptable. However, in a larger company, you may have to wear a tie, and blazer or sports coat.
Let's look at how to look your best even when you are wearing casual business attire: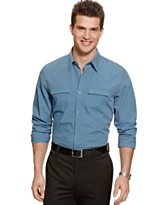 1. Properly Pressed
Your casual business attire needs to be free of wrinkles and properly pressed just like your formal business wear.
You need to look professional at all times and wrinkles don't communicate that message, nor do clothes that are not properly pressed.
2. Wear a Collar Shirt
A collar must be worn every day. Don't worry when it comes to business casual wear for men there are a number of acceptable collared shirts to choose from including polo shirts, knitted shirts, and linen shirts.
Shirts should be tailored and fit well. Enjoy a little color just as long as it is not too bright. Moderate patterns are okay.
3. Wear the Right Pants
Dockers, chinos, khakis, and other casual slacks are all acceptable in a business casual environment.
If your company leans a little heavier towards formal than choose a more relaxed dress pant. Then again, some companies allow jeans when dressed up with a collar shirt or blazer.
4. Wear a Belt
Always wear a brown or black belt depending on your shoe color.
5. Wear Matching Socks
Your socks should match your pants and they should be high enough so that when you are sitting no skin is visible.
Please leave your white tube socks where they belong – at home, in your gym bag, or on the baseball field. They are not to be worn too work.
6. Wear the Right Shoes
Choose oxfords or loafers that are more casual but do not wear sportswear.
Business Casual for Men – 3 Important Tips
Whenever you are in doubt about what the appropriate dress code is, choose formal dress
When starting a new job, on your first day dress formal business and then once you see how your co-workers dress you can change accordingly.
What's even worse than being under dressed or over dressed is wearing a belt and shoes that are not the same color. It's that important!
All photos courtesy of Macys