What is a resume?
A resume is one of the most important documents of your professional career.
Simply put, the resume can be described as a brief document that highlights any academic qualifications, professional experience/expertise and any other information regarding the profession and professional life of a person.
The resume can be considered as your proxy in the corporate world.
The challenge of writing a good resume
Writing a resume that effectively summarizes experience, skills and competencies is challenging for many people.
A good resume will effectively promote you. It will present you in the best possible light to draw employers' attention to your application so that they invite you to the job interview.
A good resume not only reviews previous/current jobs but focuses on YOU, and how you performed and what you accomplished in those jobs.Therefore, a good resume is a targeted one. It is a document which highlights those accomplishments that are most relevant to the kind of jobs you apply for – It will somehow predict how you might perform in that desired future job.
What is a good resume?
A good resume is piece of paper that takes 10-30 seconds to read and effectively helps you land a job interview. That's it.
That is the amount of time you get to make an impression. It is a marketing tool -not a personnel document. A resume that focuses on the future and your past achievement/accomplishments (not on job descriptions) will motivate an employer to meet with you.
How to write a resume?
There is no one right way to write a resume.
Every person's background, employment needs, and career objectives are different, thus necessitating unique resume designs.
Every detail and every aspect of your resume must start with who you are, what your background is, what the potential employer is looking for, and what your employment goals are. Whatever resume format you use, the information is generally divided into sections as shown here: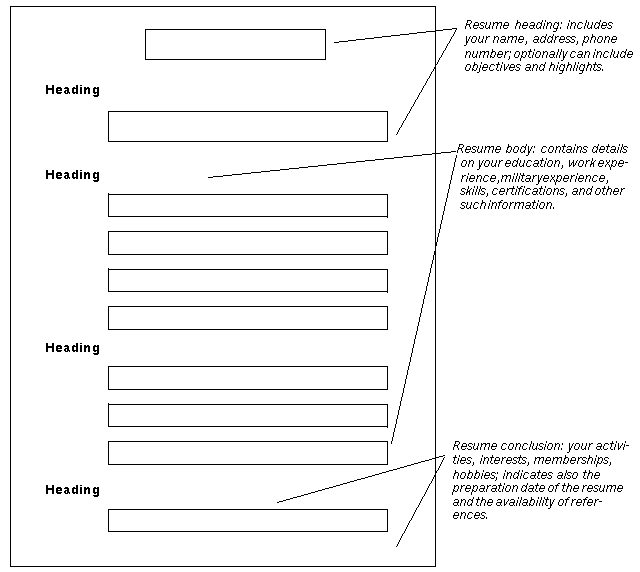 Click the image to enlarge
Resume Layout
In addition, you have to make a fundamental decision about how you present the details of your work experience, skills and education.
An example of typical presentational techniques is shown below. The elements you work with include:
Occupation, position, job title
Company or organization name
Time period you were there
Key details about your accomplishments and responsibilities while there.
The following is an example: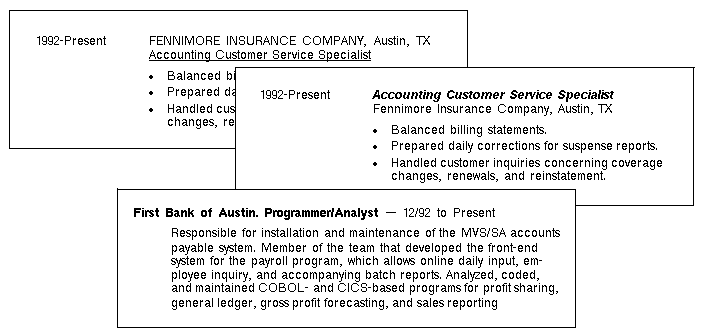 Click the image to enlarge

First question: What type of resume format should you choose?
Resume formats differ in many ways – The writing style, the sections/paragraph and the details provided within each section.
Just as all people are different, so all resumes will be different.
It is obvious that the resume for a secretary will need to be presented in a very different way from that of a nurse. The level at which you are working will also make a difference, so a Graduate resume will not be the same as that of a Senior Executive.
There are no hard and fast rules about how you should format your resume. However, you should not lose sight of what you are aiming to do, which is to 'sell' your skills to a prospective employer. Therefore, be sure to choose a format which will best achieve those aims.